Get ready to join SpongeBob SquarePants with this tasty popcorn recipe and fun popcorn boxes designed to look like each of your favorite characters!
In celebration of the release of SpongeBob SquarePants: The Complete Twelfth Season now available on DVD, we're delighted to share instructions on how to make your very own popcorn box from your favorite undersea character, as well as the sea's delicious popcorn recipe.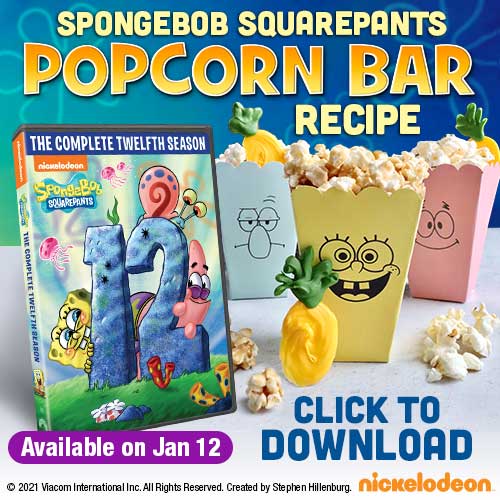 NICKELODEON'S MOST ABSORBENT SPONGE IS BACK
WITH NEW UNDERWATER ADVENTURES!

SPONGEBOB SQUAREPANTS:
THE COMPLETE TWELFTH SEASON

Available on DVD January 12, 2021

LOS ANGELES – December 8, 2020 – It's time to revisit the adventures of SpongeBob SquarePants and his Bikini Bottom friends in SpongeBob SquarePants: The Complete Twelfth Season, arriving on DVD January 12, 2021, from Paramount Home Entertainment and Nickelodeon Home Entertainment.

Witness Gary try out a new pair of legs to keep up with SpongeBob and Plankton and practice ruling the world in SpongeBob's aquarium. Join Plankton as he creates clones of himself and Mr. Krabs, and follow Squidward as he tries out another line of work before SpongeBob and Patrick come to ruin it! Watch as the newly reformed "Clean Bubble" takes a job at the Krusty Krab, and Mrs. Puff, Karen, and Sandy take Pearl to a cabin in the kelp for a fun weekend.

Featuring a grand collection of season 12's hilarious episodes, including "SpongeBob's Big Birthday Blowout," SpongeBob SquarePants: The Complete Twelfth Season 3-DVD set will be available for the suggested retail price of $13.99 U.S.



Disc 1:
SpongeBob SquarePants: The Complete Twelfth Season Episodes:
FarmerBob / Gary & Spot
The Nitwitting / The Ballad of Filthy Muck
The Krusty Slammer / Pineapple RV
Gary's Got Legs / King Plankton
Plankton's Old Chum / Stormy Weather
Swamp Mates / One Trick Sponge
The Krusty Bucket / Squid's on a Bus
Sandy's Nutty Nieces / Insecurity Guards
Broken Alarm / Karen's Baby
Disc 2:
Shell Games / Senior Discount
Mind the Gap / Dirty Bubble Returns
Jolly Lodgers / Biddy Sitting
SpongeBob's Big Birthday Blowout
SpongeBob in RandomLand / SpongeBob's Bad Habit
Handemonium / Breakin'
Boss for a Day / The Goofy Newbie
The Ghost of Plankton / My Two Krabses
Disc 3:
Knock, Knock Who's There? / Pat Hearts Squid
Lighthouse Louie / Hiccup Plague
A Cabin in the Kelp / The Hankering
Who R Zoo?
Plankton's Intern / Patrick's Tantrum
BubbleBass's Tab / Kooky Cooks
Escape from Beneath Glove World
Krusty Koncessionaires / Dream Hoppers
SpongeBob SquarePants: The Complete Twelfth SeasonSynopsis:
Who lives in a pineapple under the sea? SpongeBob SquarePants! Follow the adventures of this enthusiastic, optimistic sponge whose good intentions inevitably lead him and his friends into trouble, even after 12 seasons!

SpongeBob SquarePants: The Complete Twelfth Season Fast Facts:
Street Date: January 12, 2021
Catalog: 59214090000 (US), 59214091000 (CN)
Running Time: 9 hrs 26 min
Audio: English 5.1 Dolby Digital, French 2.0 Dolby Digital, Spanish 2.0 Dolby Digital
US M.S.R.P.: $13.99
CN M.S.R.P.: $15.99

About Nickelodeon
Nickelodeon, now in its 41st year, is the number-one entertainment brand for kids. It has built a diverse, global business by putting kids first in everything it does. The brand includes television programming and production in the United States and around the world, plus consumer products, digital, location-based experiences, publishing, and feature films. For more information or artwork, visit http://www.nickpress.com. Nickelodeon and all related titles, characters, and logos are trademarks of ViacomCBS Inc. (Nasdaq: VIACA, VIAC).

About Paramount Home Entertainment
Paramount Home Entertainment (PHE) is part of Paramount Pictures Corporation (PPC), a global producer and distributor of filmed entertainment. PPC is a unit of ViacomCBS (NASDAQ: VIAC; VIACA), a leading content company with prominent and respected film, television, and digital entertainment brands. The PHE division oversees PPC's home entertainment and transactional digital distribution activities worldwide. The division is responsible for the sales, marketing, and distribution of home entertainment content on behalf of Paramount Pictures, Paramount Animation, Paramount Television Studios, Paramount Players, MTV, Nickelodeon, Comedy Central, and CBS and applicable licensing and servicing of certain DreamWorks Animation titles. PHE additionally manages global licensing of studio content and transactional distribution across worldwide digital distribution platforms including online, mobile, and portable devices and emerging technologies.