Valentine's Day is almost here and Team Avatar is here to help spread the love! In anticipation of the upcoming release of The Legend of Korra – The Complete Series Limited Edition Steelbook Collection, arriving on March 16, we're thrilled to share these super sweet Korra-themed printable Valentine's Cards.
Disclosure: Some of the links in this post are 'affiliate links. This means if you click on the link and purchase the item, I will receive an affiliate commission. Amazon affiliate links are most often used.
Get ready for Valentine's Day with the help of Avatar Korra and her friends! THE LEGEND OF KORRA – The Complete Series Limited Edition Steelbook Collection arrives on March 16!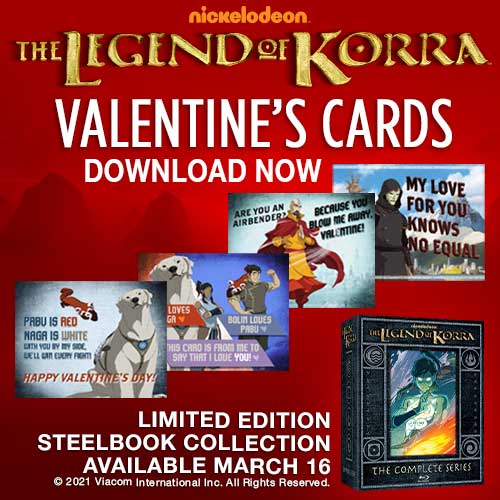 NICKELODEON'S GROUNDBREAKING AVATAR SERIES RETURNS WITH A FIRST-EVER LIMITED EDITION STEELBOOK RELEASE OF THE SEQUEL SERIES
THE LEGEND OF KORRA THE COMPLETE SERIES LIMITED EDITION STEELBOOK COLLECTION
Available March 16, 2021
LOS ANGELES – December 9, 2020 – Nickelodeon'scritically acclaimed, Emmy® Award-winning The Legend of Korra animated series receives the SteelBook® treatment as The Legend of Korra – The Complete Series Limited Edition Steelbook Collection arrives on March 16, 2021. The 4-book collection features stunning new artwork by artist Caleb Thomas, with each book featuring a different element (Fire, Water, Earth, and Air). The front covers combine to showcase Korra's physical journey to become the Avatar, while the back covers represent pivotal moments in her spiritual journey. Thomas also designed the covers of the Avatar: The Last Airbender SteelBook® and was handpicked to design both collections' covers after series co-creator and executive producer Bryan Konietzko became a fan of Thomas' art style on social media. The collection's production run will be limited to 10,000 units.

Created by Konietzko and Michael Dante DiMartino, The Legend of Korra picks up seventy years after the end of the Avatar: The Last Airbender story arc with brand-new characters and settings. The series follows the new Avatar, Korra, as she faces the difficult challenges, duties, and responsibilities that come with being the Avatar. The series aired on Nickelodeon and Nick.com from April 2012 through December 2014, garnering both critical and audience acclaim while also winning Annie® and Primetime Emmy® awards. The series features the same iconic blend of anime and traditional animation as the original Avatar: The Last Airbender series, alongside a talented voice cast including Janet Varney (TV's "Stan Against Evil", "You're the Worst"), David Faustino (TV's "Married with Children", "DreamWorks Dragons", "Dragons: Race to the Edge"), P.J. Byrne (The Wolf of Wall Street, TV's "Big Little Lies"), J.K. Simmons (Whiplash, Spider-Man, TV's "Gravity Falls", "Ultimate Spider-Man"), Seychelle Gabriel (TV's "Falling Skies"), Dee Bradley Baker (TV's "Avatar: The Last Airbender", "SpongeBob SquarePants", "Gravity Falls", "Star Wars: The Clone Wars"), and Mindy Sterling (Austin Powers: International Man of Mystery, TV's "A.N.T. Farm", "Chowder").

The Legend of Korra – The Complete Series Limited Edition Steelbook Collection will be available on March 16, 2021, from Paramount Home Entertainment and Nickelodeon Home Entertainment for $97.99.


Synopsis:
The spirit of the Avatar lives on in the complete series of The Legend of Korra. Relive every moment from all four books. From meeting Avatar Korra, a teenage girl from the Southern Water Tribe, in Book One, to opening the spirit portal and entering a new age where spirits and mankind coexist in Books Two and Three, to embarking on a journey of self-discovery and restoring balance to the Earth Kingdom in Book Four, fans won't want to miss a second of air, earth, water and fire bending in this complete collection!

Seasons:
Book One: Air Season 1 – 12 episodes – Aired 4/14/12 – 6/23/12
Book Two: Spirits Season 2 – 14 episodes – Aired 9/13/13 – 11/22/13 Book Three: Change Season 3 – 13 episodes – Aired 6/27/14 – 8/22/14
Book Four: Balance Season 4 – 13 episodes – Aired 10/3/14 – 12/19/14
Bonus Content:
Book One: Air Audio Commentary (episodes 101-112) The Legend of Puppetbender Presents "The Making of a Legend: The Untold Story
– Part I" Creator's Favorite Scenes: Animatics Welcome to Republic City The Revelation
(2) The Voice in the Night The Spirit of Competition
(2) And the Winner Is… When Extremes Meet Turning the Tides Endgame Book Two: Spirits Audio Commentary (episodes 113-126)
Scene Bending Rebel Spirit Scene 1
Rebel Spirit Scene 2 The Southern Lights Scene 1
The Southern Lights Scene 2 Civil Wars,
Pt. 1 Civil Wars,
Pt. 2 Peacekeepers Beginnings: Part 1 Beginnings:
Part 2 The Guide A New Spiritual Age Night of a Thousand Stars Harmonic Convergence Darkness Falls Light in the Dark Kindred Spirits: Tenzin's Family
Inside the Book of Spirits The Re-telling of Korra's Journey Feuding Spirits: Korra's Family
Book Three: Change
Audio Commentary (episodes 201-213)
The Spirit of an Episode
A Breath of Fresh Air Rebirth
The Earth Queen In Harm's Way
The Metal Clan Old Wounds
Original Airbenders The Terror Within The Stakeout
Long Live the Queen The Ultimatum Enter the Void Venom of the Red Lotus
Book Four: Balance
Audio Commentary (episodes 214-226)
Kuvira vs. Prince Wu Republic City Hustle:
Parts 1-3 The Legend of the Puppetbender Presents "The Making of a Legend: The Untold Story
– Part II" Legend of Korra: New York Comic-Con Panel Featurette
The Legend of Korra – Limited Edition Steelbook Collection Fast Facts:
Street Date: March 16, 2021
Amazon Landing Page: http://www.amazon.com/avatar
Catalog: 59181998000 (US); 59181999000 (CAN)
Running Time: 20 hrs 10 min
Audio: Book 1: English 5.1 DTS-HD Master Audio, Spanish 2.0 Stereo, French 2.0 Stereo
Books 2-3: English 5.1 DTS-HD Master Audio, Spanish 2.0 Dolby Digital
Book 4: English 5.1 DTS-HD Master Audio
US Rating: Not Rated
CN Rating: PG (Violence, Frightening Scenes)
US S.R.P.: $97.99
CN S.R.P.: $107.99

About Nickelodeon
Nickelodeon, now in its 41st year, is the number-one entertainment brand for kids. It has built a diverse, global business by putting kids first in everything it does. The brand includes television programming and production in the United States and around the world, plus consumer products, digital, location-based experiences, publishing, and feature films. For more information or artwork, visit http://www.nickpress.com. Nickelodeon and all related titles, characters, and logos are trademarks of ViacomCBS Inc. (Nasdaq: VIACA, VIAC).

About Paramount Home Entertainment
Paramount Home Entertainment (PHE) is part of Paramount Pictures Corporation (PPC), a global producer and distributor of filmed entertainment. PPC is a unit of ViacomCBS (NASDAQ: VIAC; VIACA), a leading content company with prominent and respected film, television, and digital entertainment brands. The PHE division oversees PPC's home entertainment and transactional digital distribution activities worldwide. The division is responsible for the sales, marketing, and distribution of home entertainment content on behalf of Paramount Pictures, Paramount Animation, Paramount Television Studios, Paramount Players, MTV, Nickelodeon, Comedy Central, and CBS and applicable licensing and servicing of certain DreamWorks Animation titles. PHE additionally manages global licensing of studio content and transactional distribution across worldwide digital distribution platforms including online, mobile, and portable devices and emerging technologies.